This week I'll share a few advances in technology that I've run across recently. The first project however isn't really an advancement but simply ingenuity at it's best. I've always been a bit of a hands on tinkerer and lately I find that my web work dominates the majority of my time. Hopefully soon I'll be able to get back into electric dune buggies and useless yard sculpture, but until then…stories like these keep me hooked.
Pictures from space for under $150.00
A group of MIT students wanted to see how cheaply they could launch a balloon into space to take pictures of our atmosphere. For under 150 bucks they turned a beer cooler, camera and prepaid cell phone with GPS into a mini Hubble telescope. Check out the full story Here and a list of what they used to do it Here.
Mecha from the garage
Carlos Owens is a 31 year old army mechanic that built an 18 foot tall mecha monster. It uses 27 hydraulic pistons to walk, bend, and move it's arms and hands. Check out the full article Here.
Racing the sun
A  solar powered plane called "solar impulse" is set to circumvent the earth without using a single drop of oil. The plane will fly 45 miles per hour and take three weeks to complete one full circle around the planet. Check out the full story Here.
A two wheeled robot balanced drink
The final advancement for this article is a robot that has only two wheels. It uses gyroscopes similar to the Segway. The inventor is working on an automated version with proximity sensors and voice control so that it could take commands from a human from rooms away. Full article Here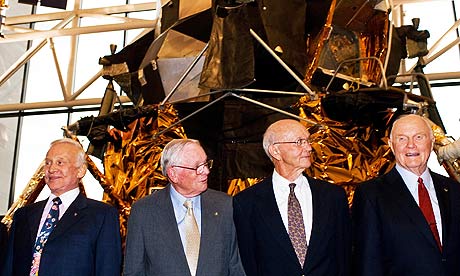 (L to R) Buzz Aldrin, Neil Armstrong, Michael Collins and John Glenn in front of the lunar module device at the Smithsonian National Air and Space Museum in Washington. Photograph: Marcus Yam/AP
The heroes of America's moon landing last night called for the US to launch a mission to Mars and beyond, in a rare joint appearance aimed at reigniting interest in costly and risky manned space flight.
Now in their late 70s, Neil Armstrong, Buzz Aldrin, Michael Collins and John Glenn recounted their exploits, describing the massive US effort to beat the Soviet Union in the space race that culminated 40 years ago today, when Armstrong and Aldrin stepped out of the Eagle moon lander on to the lunar surface.
Several of the men called on Barack Obama to lead the country on a second mission, this time to Mars. But the star of the evening, Armstrong, refused to be drawn into the debate, instead describing the Apollo mission that granted him worldwide fame as a "diversion" primarily useful as a peaceful outlet for cold war competition between the US and the Soviet Union.
"It did allow both sides to take the high road with the objectives of science and learning and exploration," said Armstrong, the first human on the moon. But he noted the parallel development of the space programme and the intercontinental ballistic missiles capable of mass destruction.
I only listed the first four of these twelve new emerging technologies. Some of these are truly amazing! Others are well overdue. Enjoy! The complete list of all twelve is located here.
Science moves forward, and takes with it the human body. Over the centuries humans have adapted to live longer, healthier lives. And as the pace of scientific advancement continues, so with it does our ability to modify and improve ourselves to deal with the changing circumstances of our world. Some of these advancements are necessary for the continuation of life, others are for the specialization and longevity of the human body, while still others are to make us better, faster, and stronger organisms that can achieve the impossible. The following are twelve advances in science that have taken us from "mere human" to "super human".
Bionic Vision
(Source)
Ever wanted night vision? Or double the visual abilities of "perfect"? Well, the bionic eye will be able to help. Currently it's being developed to help blind people regain vision, but the field of adaptive optics is moving closer and closer to perfecting night vision and helping those with perfect vision go even farther. So, completely blind or with perfect sight, the bionic eye can help you see beyond the capacities of any normal human.
The C-Leg
(Source)
The C-Leg is a military grade prosthetic limb with an intelligent system that measure's your gait 50 times per second for real time adjustments. One of the strongest and most advanced prosthetic limbs in the world, it is the U.S. military's choice for a prosthetic leg for its soldiers. Made primarily from titanium, this leg gives you more strength and durability than any human leg could. If you're not in the military, it will set you back $30,000 to $40,000 though.
The XOS Exoskeleton
(Source)
If you ever saw "Iron Man", you probably said exactly the same thing everyone else did; "Where can I get one of those?!" From Raytheon Company of course. The XOS Exoskeleton can be put on like an overcoat, but once on the wearer can easily lift 200 lbs. with one arm. 500 times in a row. Without breaking a sweat. Minus the ability to fly and the lack of weapons attached, this is the "Iron Man" suit.
The Rocket Belt
(Source)
Since the 1960's, various forms of jet packs and rocket belts have been successfully tested and used. If you have $125,000 lying around, you can own your own rocket belt and fly for up to 30 seconds at a time. Or you can spring for the more advanced T-73 Jet pack and fly for a full nine minutes, and up to 11 miles. At the very least, you can have one hell of a morning commute.
Launched alongside The Museum of Modern Art "Design and The Elastic Mind" exhibition, the Morph concept device is a bridge between highly advanced technologies and their potential benefits to end-users. This device concept showcases some revolutionary leaps being explored by Nokia Research Center (NRC) in collaboration with the Cambridge Nanoscience Centre (United Kingdom) – nanoscale technologies that will potentially create a world of radically different devices that open up an entirely new spectrum of possibilities.
Morph concept technologies might create fantastic opportunities for mobile devices:
Newly-enabled flexible and transparent materials blend more seamlessly with the way we live
Devices become self-cleaning and self-preserving
Transparent electronics offering an entirely new aesthetic dimension
Built-in solar absorption might charge a device, whilst batteries become smaller, longer lasting and faster to charge
Integrated sensors might allow us to learn more about the environment around us, empowering us to make better choices
In addition to the advances above, the integrated electronics shown in the Morph concept could cost less and include more functionality in a much smaller space, even as interfaces are simplified and usability is enhanced. All of these new capabilities will unleash new applications and services that will allow us to communicate and interact in unprecedented ways.
This is the largest digging machine (or trencher or rotating shovel) in the world. It was built by Krupp and is shown here crossing a road in Germany on the way to its destination, an open air coal mine. Although at the mine the treads are unnecessary, it was cheaper to make the machine self-propelled than to try and move it with conventional hauling equipment. Some factoids:
The machine is 95 meters high and 215 meters long (almost 2.5 football fields in length)
Weight is 45,500 tons (that's equivalent to a bumper to bumper line of jeeps 80 miles long)
It took 5 years to design and manufacture at a cost of $100 million *
Maximum digging speed is 10 meters per minute
Can move more than 76,000 cubic meters of coal, rock, and earth per day Giant digging machine
Cinco Camp, Roger Black's Texas retreat, is made of five shipping containers placed on his remote 3,000-acre ranch.
More Photos >
A four level shipping container home design for the Asheville area in Western North Carolina. This layout incorporates three 40 foot containers stacked one container deep. This design would be ideal for a short building lot with heavy tree cover. The top floor shows an airplane hanger scissor-style door. The third floor shows a semi-breeze way between rooms. The second floor makes use of the shipping container doors and has a cantilevered end porch with privacy doors. The bottom floor of this ISBU home is a two car garage with workshop area in the rear.
This video was featured on the website TED, great site with tons of interesting clips.